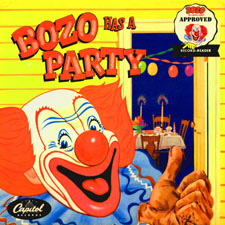 If your speakers are on and you can't hear BOZO, click below for MP3 Sound Sample!
BOZO HAS A PARTY - In stock and ready to ship

BOZO HAS A PARTY was one of the last in the series of Bozo Record-Reader albums. It was first released in 1952. The Record-Reader album contains a beautifully illustrated book (about 20 pages) and two 78 rpm records. What is being offered here is the complete 2 record set of "BOZO HAS A PARTY" Some of the memorable characters from "BOZO HAS A PARTY" include:
EGBERT THE EEL
THE OLD GRAY MARE
HENRIETTA HEN and JUNIOR
DOODLES THE DOG
ALBERT THE ALLIGATOR
The great thing about this Classic Children's Record-Reader are the illustrations in the book. Don't have a 78 rpm record player??? You can still enjoy and share this classic childhood memory. In addition to the original records and illustrated Record-Reader album, an audio CD of "BOZO HAS A PARTY" will be sent along with your order. The CD was made from original 50 year old 78 rpm records. Complete noise removal on recordings of this age would introduce digital artifacts and the result would be a "lifeless" hollow sounding CD. In preparing your custom "BOZO" Compact Disc, every effort has been made to digitally reduce some of the minor pops, ticks and surface noise that show up on all 78 rpm records without sacrificing any of the highs or "liveliness" of the original recordings. The CD has four tracks on it - one for each 78 rpm record side. This CD will play on any conventional audio Compact Disc player (portable, car or home). (The CD is not available separately - please don't ask.)
BOZO HAS A PARTY

$99.00 + $14.00 Priority S&H

(2 - 78 rpm records, Record-Reader Album & CD)

IMPORTANT - MANY ITEMS ARE ONE OF A KIND COLLECTIBLES. Please contact us by E-MAIL to make sure that the item you want is still available BEFORE sending payment.