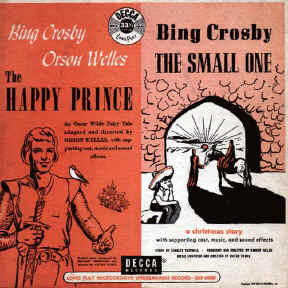 Here's what you get:

The Original LP record PLUS a Compact Disc recording of your record.
The HAPPY PRINCE - BING CROSBY, ORSON WELLES and a Musical Score Composed by BERNARD HERRMANN. An Oscar Wilde fairy tale adapted and directed by Orson Welles. This CLASSIC children's record has been out of print for many years. You also get the story of The Small One as told by Bing Crosby. These are the original recordings just as you remember them. Don't have a record player??? You can still enjoy and share this classic childhood memory. In addition to the original record, an audio CD recording of "The HAPPY PRINCE" / "The SMALL ONE" will be sent along with your order. In preparing your custom Compact Disc, every effort has been made to digitally reduce most of the minor pops, ticks and surface noise that show up on all records without sacrificing any of the highs or "liveliness" of the original recordings. We're sure you will be happy with the results. The CD sounds great! This CD will play on any conventional audio Compact Disc player (portable, car or home). Please note: original LP cover has a small 3 inch seem split at the bottom. In Stock and ready to ship!
The HAPPY PRINCE / The SMALL ONE

$89.00 + $9.00 Priority S&H within the U.S.

(LP record & CD)
Please contact us by E-MAIL if you have any questions about the HAPPY PRINCE/ SMALL ONE Record & CD or need shipping outside of the United States. The "PayPal Buy Now" button below allows you to purchase this item immediately with a CREDIT CARD or your PayPal account.